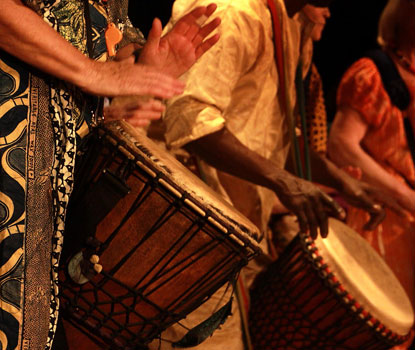 African Drum Circles & Workshops
Cape Cod and the New England Area


The small drum has its voice, as does the large drum
- Minianka proverb of Mali, West Africa


Periodic Drumming Workshops...
TBA
If you have a heartbeat, you can drum! For millennia, drumming has brought people together in community to create peace, health and wellness. The uplifting rhythms of Africa relieve stress and help people connect with each other, as well as their own joy. Participants will learn rhythms on the djembe and dun dun drums, and play together as an ensemble. Drum circles and workshops emphasize community, self-expression and the joy of rhythm. Drums provided and no experience necessary.
See information about our drum teachers below: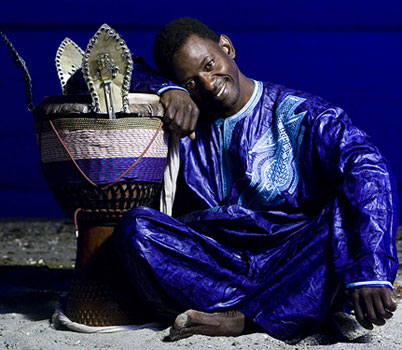 Issa Coulibaly began studying the djembe and dun dun when he was 11 in his home city of Bamako, Mali, West Africa. As his skill and reputation grew as a multi-instumentalist, vocalist and arranger, Issa toured Africa and Europe extensively before emigrating to America. He continues to travel, facilitating retreats and performing as the lead drummer and music director for a variety of African dance and drum troupes. For more information about Issa, visit: www.issacoulibaly.com





Fugan Dineen is a percussionist committed to the exploration of rhythm, time, and movement in multicultural settings. Fugan has a PhD in ethnomusicology from Wesleyan University and currently teaches at Boston College. He has recorded with an array of rock, pop, and world music artists and has performed and toured widely: North and South America, Europe, and India. Fugan teaches drumset and percussion, leads rhythm trainings and workshops, and has taught and lectured at institutions including Wesleyan, Yale University and Berklee College of Music.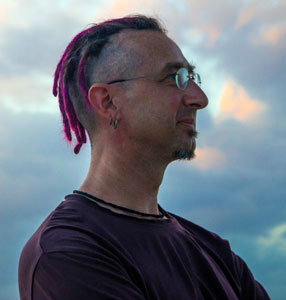 Ult Mundane has been studying traditional West African drumming for over 15 years. He has learned from renowned teachers such as Famoudou Konate and Mamady Keita. Since 2010 he has studied with Namory Keita, a master drummer from Guinea who lives in Maine.





Women's Drumming
Open Level - Beginners Welcome!
with Sue Landers
Wednesdys at 5:30-6:30 pm

Carleton Hall
Old Bass River Road, Dennis
$15 drop-in or $130 for 10 weeks
Drums provided
For class information contact: 617-872-0205 or sulanders@aol.com
Come feel the beat, learn the beat, and co-create the beat with other women!





Cape Cod Drum Circle
First Sunday of the month
5:00-7:00 pm
Cotuit Center for the Arts
Art Barn
4404 Falmouth Road/Rt. 28
Cotuit
508-428-0669
www.artsonthecape.org
Extra drums available
$10 donation
Facilitated by Sam Holmstock
Experience the spontaneous creation of music on a variety of drums. It evokes the universal rhythm inside of us. Bring a drum if you have one and there are plenty available as well. All levels welcome. Singers and windplayers welcome also. No experience necessary.
Sam Holmstock teaches the folkloric drumming of Africa, Haiti, Cuba and Brazil. Sam focuses on drumming techniques of the conga drum as well as the djembe, ensemble playing and the creative use of drumming vocabulary in contemporary music. For private lessons, please contact Sam at: 508-728-3943 or samholmstock@gmail.com.



You can never have too many drums
- Billy Wright